The Olive Green multimedia language course is based on an interactive action movie where you can decide what course the plot will take, as well as play some arcade-type and language games. The film is divided into 60 episodes, with 12 film scenes for each language skill level.
You can begin by watching a film scene in the multimedia course in the PLAY section.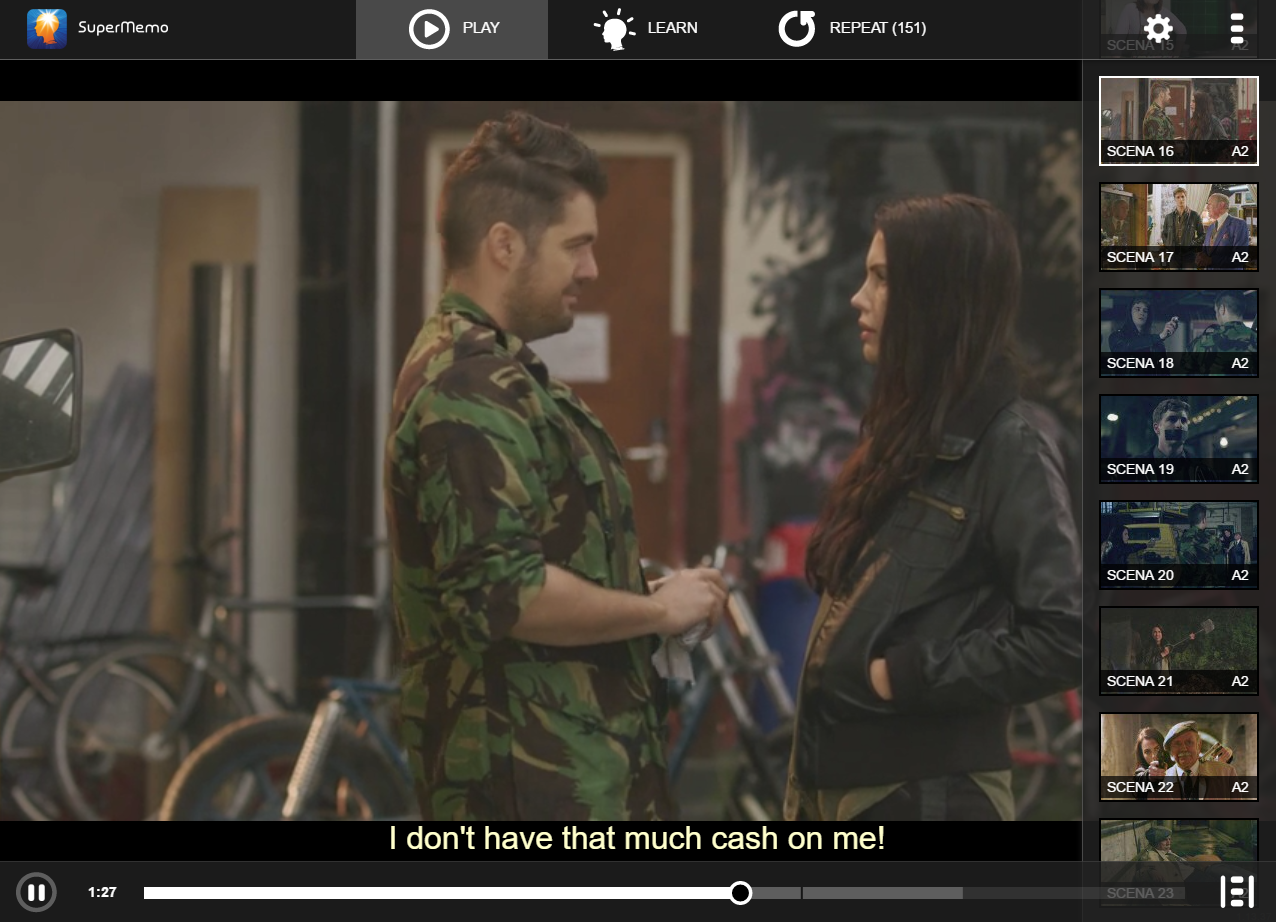 We encourage you to watch it a few times to become familiar with the native pronunciation and to make decisions during interactions. Subtitles (in your language or in English) will help you understand the dialogue. If you are only beginning to learn English, try first watching the scene once with subtitles in your language, then with English subtitles, and then without any subtitles at all. Next, try reading the text of the dialogue aloud, with the English subtitles on but with the sound turned off.
After watching each scene, go to the LEARN section, containing exercises related to that scene. First, you will find a series of true or false exercises, where your task will be to choose the correct answers based on the film scene you have just watched, which you can replay at any time. After selecting your answers, click on "Check" and evaluate yourself. Next, go to a series of vocabulary exercises, which consolidate newly-learned words and phrases.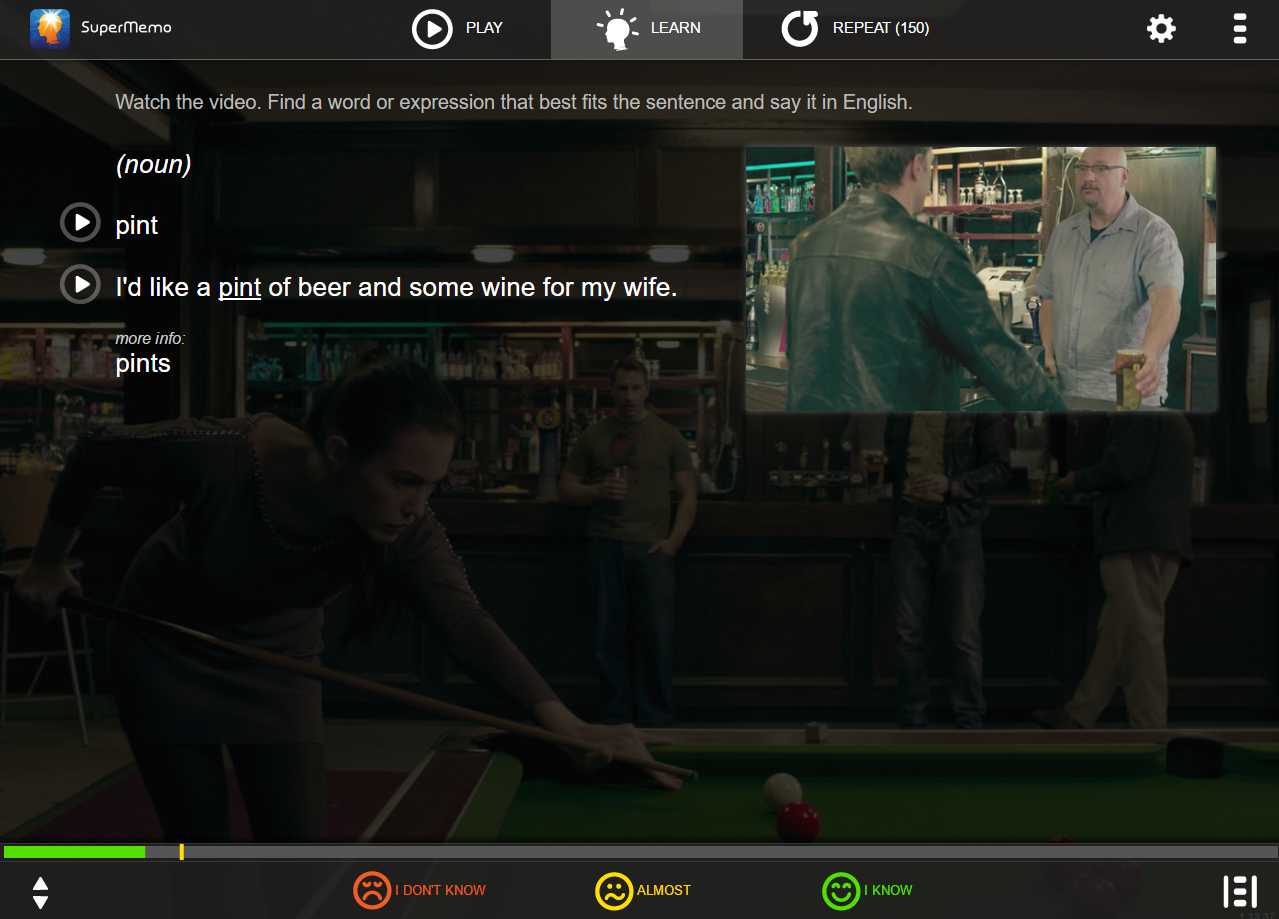 You will be asked to find an English equivalent of a given word or phrase in your language, or to fill in a gap in a sentence where that word or phrase appeared. In order to remember the word or phrase, you can replay the film scene. Then click on "Check" and compare your answer with the key. The program will not evaluate you automatically, so you will have to select one of three buttons: I don't know, Almost, or I know. Please be honest with this evaluation, as it is going to influence the optimal time the program will choose for you to revise the material, based on your individual learning curve. In the next days, you can come back to the exercises you have completed by going to the REPEAT section. In that section, you will find revision exercises, compiled based on the SuperMemo method.
Your next step will be the grammar exercises. These exercises are grouped around topics covered in the film scenes.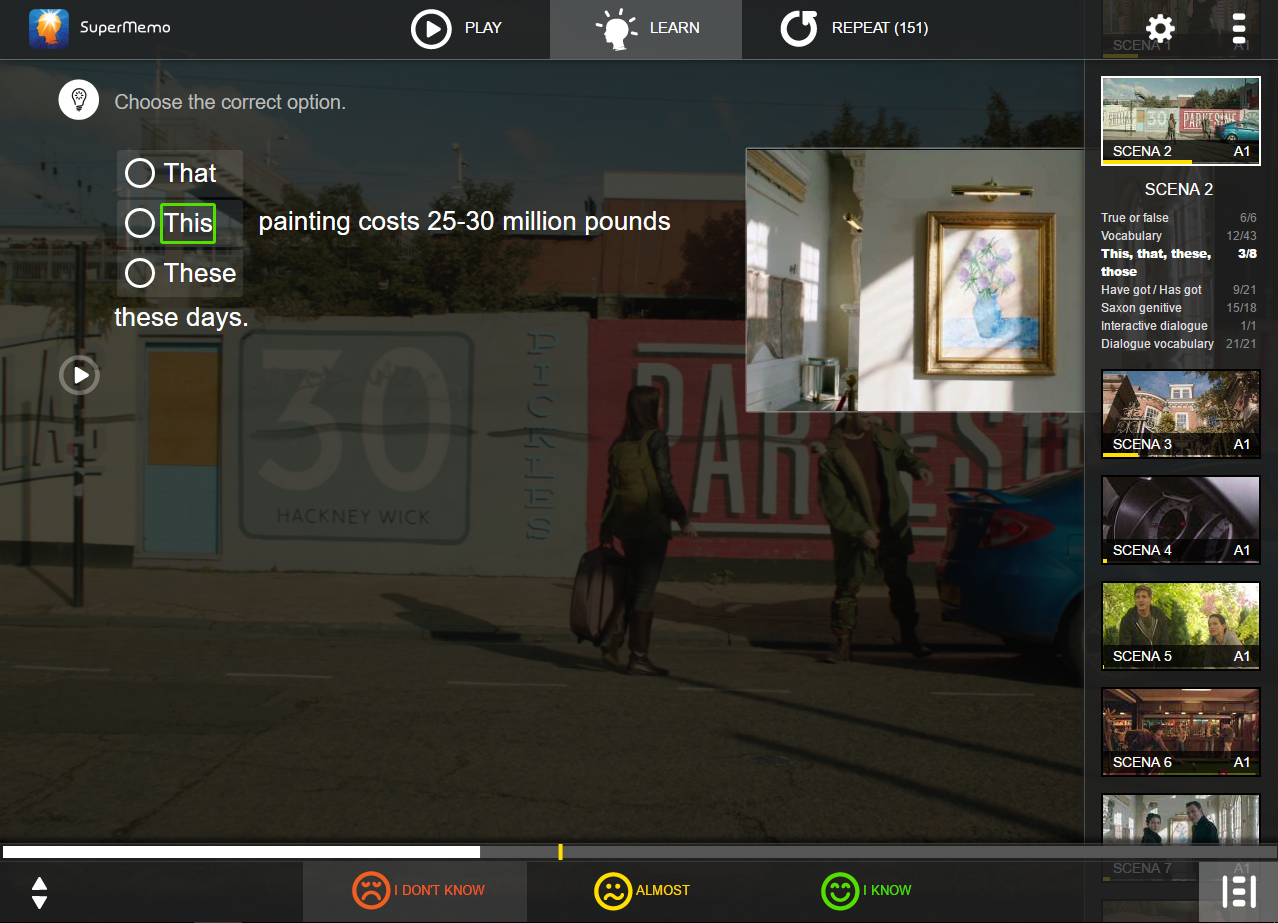 If you have any doubts, please refer to the grammar section, marked with a light bulb, where you will find many typical examples of use of the new structures. These examples are not translated, as they contain only the vocabulary that you have already learned. So jog your memory, and if you are stuck, you can always consult the inbuilt online dictionary.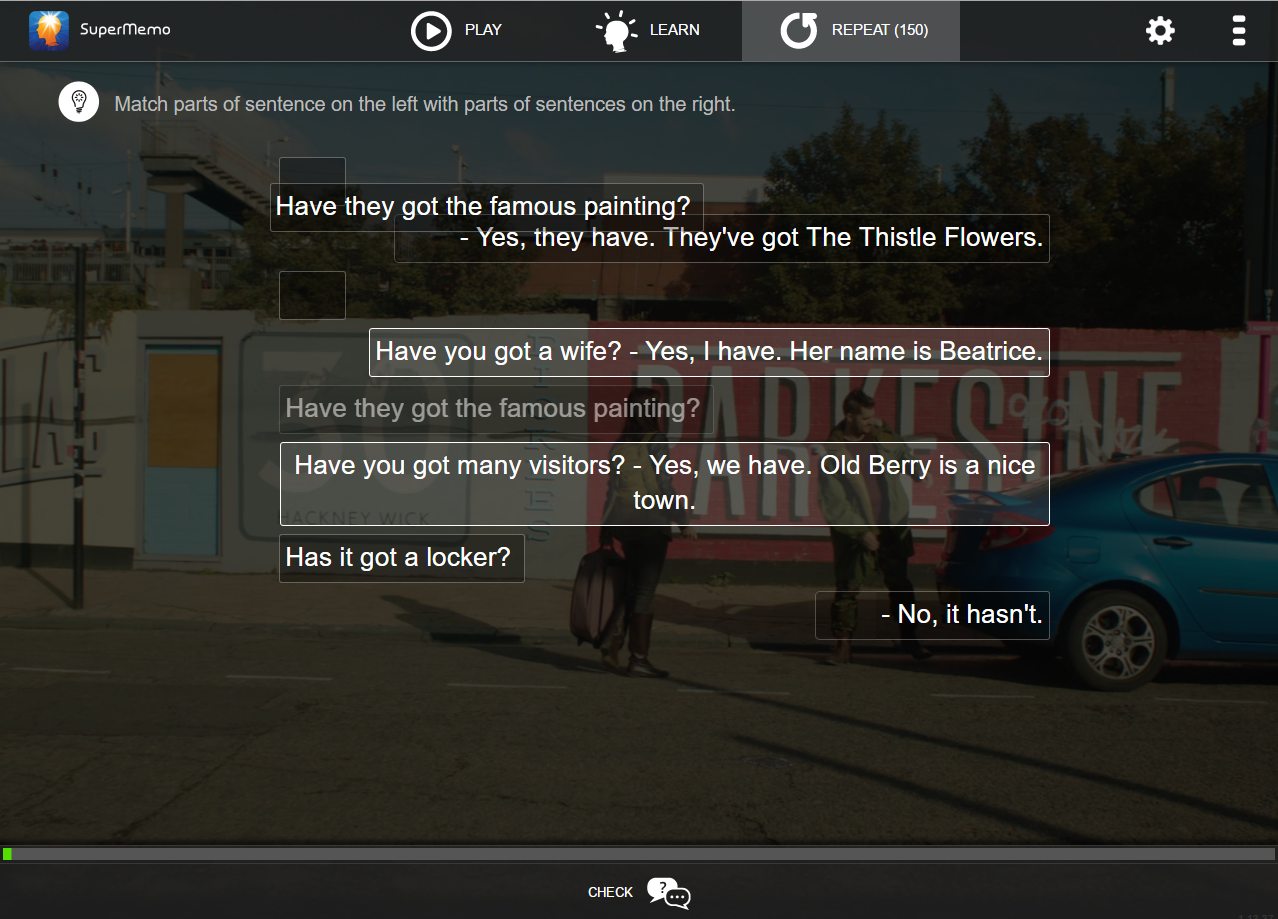 The course also contains interactive dialogues, where you can practise different communication situations and use all the skills you need to talk to someone in English. You can talk to the characters from the film by pretending to be one of them. If your browser is Chrome, you can even speak out loud – the program will automatically convert your speech to text and you will shortly receive a witty reply. You can practise each dialogue multiple times, each time providing different replies. This way you can carry out completely different conversations and use more new words and phrases in practice. After the dialogues, you will also practise the newly-learned vocabulary in the already familiar question-answer type exercises.
Finally, you can read the cultural trivia, where you will learn about interesting aspects of English-speaking countries' cultures. Please always try to analyse the English text yourself and understand its general meaning. Only then refer to the dictionary to find equivalents of any new words in your language.
We wish you great fun and success in your learning!
A.